Montgomery Wrongful Death Lawyer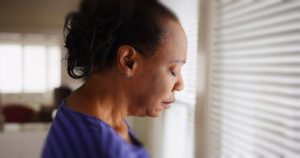 Losing a loved one unexpectedly is difficult enough, but learning that your loved one's death could have been prevented is gut-wrenching. If you have lost a family member in an accident that was caused by someone else's negligence, you should know that you have a legal right to hold the at-fault party financially responsible.
At the Serious Injury Law Group, our Montgomery wrongful death attorneys can help you understand your legal rights and what your family may be entitled to recover. To learn more or to talk directly with a Montgomery wrongful death lawyer today, please call our office immediately. A consultation is free, and our law firm does not charge any legal fees unless we recover money for you.
Don't try to cope with such a tragic loss on your own. Let us help.
What Is Wrongful Death?
In Alabama, a cause of action for a wrongful death claim exists when the death of an individual is caused by the wrongful act, omission, or negligence of another party, and the deceased person could have filed a personal injury claim against the defendant had the incident not resulted in death.
Negligence is defined as the failure to exercise the proper degree of care required for a given situation, and proving this is the crux of a wrongful death lawsuit. You must be able to prove that your loved one's death would not have occurred but for the defendant's conduct.
Who Can File a Wrongful Death Claim?
In Alabama, the only party who maintains the right to bring forth a wrongful death action is the personal representative of the deceased person's estate. Typically, a personal representative is named in the deceased party's will. If no person is named, a personal representative may be assigned by the court.
Although the personal representative is the one who has the right to file a wrongful death claim, the damages recovered will be distributed to the deceased person's beneficiaries.
What is the Wrongful Death Statute of Limitations?
While it can be extremely difficult to think about anything other than one's own grief after losing a loved one, a wrongful death action must be brought within the state's statute of limitations in order to be valid. This means that you don't have much time to act after losing a family member.
The wrongful death statute of limitations in Alabama is typically two years from the date of death. Note that if you are bringing a claim against the government, you must file a notice of claim within six months' time. In order to ensure your rights are protected and you don't miss any important deadlines, you need to speak with a knowledgeable wrongful death attorney immediately to start work on your claim
Wrongful Death Compensation
Alabama's wrongful death laws are unique compared to other states', primarily because Alabama does not allow a surviving family member to seek compensatory damages via a wrongful death action. For example, in most other states, family members can seek compensatory damages for economic and non-economic losses, such as medical expenses, funeral and burial expenses, etc. In Alabama, however, the personal representative of the estate can only seek punitive damages via a wrongful death claim.
Punitive damages are very different from compensatory damages. Instead of compensating the victim, punitive damages are intended to punish the defendant for their conduct and deter future wrongdoers from like actions. However, while punitive damages are meant to punish the defendant rather than compensate the victim, punitive damages awarded to an estate can of course be used to pay for things such as outstanding medical bills, funeral and burial expenses, etc.
Note that if a deceased person filed a personal injury claim and died before the claim was settled, the action may survive them ─ this is known as a survival action. In a survival action, damages that are recoverable are based on the decedent's losses and, therefore, damages for things like pain, suffering, lost wages, medical expenses, loss of consortium, and property damage costs are recoverable.
While the two types of actions are separate, they can be pursued concurrently.
Common Wrongful Death Cases We Handle
Our Montgomery wrongful death lawyers have years of experience working on a number of different types of wrongful death cases. If your loved one has died and you believe that someone else was to blame, you may have a claim, regardless of the type of accident that led to the death.
Some of the common types of wrongful death cases our law firm handles include:
Bicycle accidents
Defective products
Dangerous drugs
Premises liability
If you have questions about your loved one's death after an accident, please reach out to our firm now for help. We can review your case for free, explain your legal rights, and advise you on your options for moving forward.
How Our Lawyers Can Help
Losing a loved one can be extremely challenging, both emotionally and financially. After a loved one's death, you may not understand what your rights are or what steps you need to take. You may have many questions about the future and what happens next. When you work with a Montgomery wrongful death attorney, your legal team can:
Explain exactly what to expect throughout the wrongful death claims process
Help you identify the personal representative of your loved one's estate
Gather evidence to prove the defendant's wrongdoing and negligence
File your wrongful death claim on your behalf, ensuring all documentation is in order and all deadlines are met
Aggressively negotiate for your best interests in settlement talks
Pursue your wrongful death lawsuit in court if necessary
Throughout the entire process, our lawyers can offer skilled representation and compassionate guidance, allowing you to focus on getting your life back on track while we handle the legal elements.
Contact a Montgomery Attorney Now
At the Serious Injury Law Group, our lawyers are committed to working hard for you and your family. When you need an advocate on your side, you can count on us.
To schedule your free case consultation with our law firm today, please call us directly or send us a message telling us more about your loved one's death. We are here to help.