What Sets Us Apart
Solely focused on personal injury cases
Locally owned and committed to the community
Tough in negotiations and seasoned in litigation
Available to meet with clients wherever is most convenient
Responsive and respectful of your time
Learn More
What Clients Say About Us
"He was very knowledgeable about the law and kept us informed throughout the entire process. He returned our calls and genuinely cared for me and my family during a very difficult time. We were very pleased with the final outcome. "

– Franklin
View Testimonials
Birmingham Medical Malpractice Attorneys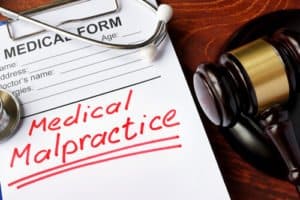 You should be able to trust doctors and other medical providers to "do no harm." However, mistakes can and do occur, and the results can be devastating to patients. Unfortunately, all too often, victims go uncompensated for the damages they have suffered. That's because Alabama laws are particularly tough when it comes to filing a medical malpractice claim.
At the Serious Injury Law Group, our skilled medical malpractice lawyers in Birmingham have extensive experience handling these complicated and challenging cases. We know how aggressively insurance companies will fight malpractice claims, and our respected litigators are always prepared for a fierce courtroom battle.
Why Choose Our Medical Malpractice Attorneys?
Clients frequently recommend our law firm because:
Our attorneys focus only on personal injury cases. Birmingham personal injury law is complex, particularly when it comes to medical malpractice. We have honed our skills in this area and do not divide our time by practicing in fields across the board.
Our firm's goal is to win, not settle. Although in many cases we are able to secure maximum compensation through medical malpractice settlements, our seasoned trial attorneys will not back down from a courtroom fight if insurance companies refuse to do what's right.
Our lawyers are always available to talk. We pride ourselves on being responsive to clients when they call or email us about their case. If we are not available to speak at the time you call, someone will get back to you within 24 hours to discuss your case.
Our attorneys are natives of Alabama. We grew up and raise our families in the neighborhoods we serve. We often run into former and current clients around town, and we make it a point to build and maintain personal relationships with the people we help.
Our team puts clients' needs above all else. We know you have likely never been involved in a medical malpractice lawsuit before, so we do everything we can to support you through it. That includes traveling to meet with you at your convenience ─ whether that's at your home or at the hospital.
Schedule a free consultation now by calling us today or filling out our online form. Our Alabama medical malpractice law firm does not charge any fees upfront to start on your claim, and our attorneys only get paid if we recover money for you for your medical malpractice cases.
Why Are Medical Malpractice Cases So Difficult in Alabama?
You may have already found that many attorneys are reluctant to take on medical malpractice cases. That's because Alabama's medical malpractice laws are typically seen as favoring health care providers, setting the stage for an uphill battle for injured patients. For example, an investigative report from AL.com notes that:
Finding an expert medical witness that the court accepts can be difficult and costly. Expert witnesses are essential for giving medical opinions in your case, but they must have similar experiences and qualifications as the defendant. Oftentimes, local doctors will refuse to testify against colleagues, forcing patients to seek witnesses from out of state and adding to the cost of pursuing a case.
Defining "reasonable care" is not easy. To prove malpractice took place, you must show that the health care provider did not act with reasonable care. This does not mean that he or she simply chose a treatment option that another doctor might not have. In addition, a bad outcome in and of itself is not an indication that the provider did not take reasonable care.
The health care providers' past problems cannot be used against them. Discipline for former misconduct or other malpractice settlements the provider faced cannot be brought up as part of your claim.
Alabama does not cap damages in medical malpractice cases. These means there is a lot of money on the line, and insurers will fight tooth and nail to protect their profits rather than paying injured patients.
Disagreements over application of the statute of limitations. Alabama has different time limits on filing a claim based on the circumstances of your case. Insurance companies may try to use these variations to squash your claim.
Your contribution to your injury can be used against you. Alabama is a "contributory negligence" state. This means if you contributed to your injury in any way, such as by not following doctor's instructions or missing appointments, you can be barred from recovering compensation. The insurance company will always try to use your actions against you.
It is crucial that you speak with an experienced Birmingham medical malpractice attorney as soon as possible if you suspect you have been harmed by a medical mistake. At the Serious Injury Law Group, our attorneys have extensive experience successfully litigating these difficult cases, and we have strong connections with medical experts who can help strengthen your claim. Contact us today to schedule a free consultation.
Who Can Be Held Responsible in a Medical Malpractice Claim?
The Alabama Medical Liability Act indicates that medical providers that do not meet the applicable standard of care, thus resulting in injury or death to a patient, can be held liable for damages. This may include:
Doctors
Surgeons
Nurses
Anesthesiologists
Dentists
Any other licensed medical or dental practitioners
Hospitals
Doctor's offices
Dentist offices
Health care clinics
Emergency rooms
Rehabilitation centers
Hospices
Nursing homes
Assisted-living facilities
Any other medical institutions
When our firm takes on a medical malpractice case, we thoroughly investigate exactly what happened to determine who should be held liable for your injuries. We collect extensive documentation in order to build a strong case for maximum compensation. Speak with a medical malpractice attorney today.
What Is the Statute of Limitations for Medical Malpractice Claims in Alabama?
Alabama's statute of limitations on medical malpractice claims place time limits on how long you have to file a lawsuit. The circumstances of your case will determine which time limit applies:
In general, you have two years from the date of injury to file a claim.
If you did not discover the cause of your injury or illness right away, you have six months from the date of discovery (or the date when facts should reasonably have led you to the discovery).
However, the time limit for pursuing a claim is capped at four years.
In the case of children younger than 4, an exception is made, allowing a claim to be brought anytime until the child turns 8.
It takes time and resources for a skilled personal injury lawyer to craft a solid medical malpractice claim. So you should contact our  medical malpractice attorneys in Birmingham as soon as you suspect you have been the victim of a medical error.
Common Causes of Medical Errors
"Medical malpractice" is a broad description for a long list of medical mistakes and errors that can lead to serious injuries, illness, or death. Some of the cases our Birmingham medical malpractice attorneys handle include:
Emergency room errors
Birth defects
Fetal distress
Cerebral palsy
Brain injuries
Misdiagnosed heart problems
Failure to monitor
Delay in treatment
Failure to resuscitate
Misinterpreting test results
Improperly trained staff or understaffing at a facility
If you are not sure whether your case would be considered medical malpractice, contact us today to discuss it in a free, no-obligation consultation. Our team will go over all the details of what happened to you and lay out your legal options. We have injury attorneys in Montgomery as well as Birmingham waiting to assist you.
Get Started with your CaseCall Us at 1-855-Serious
Contact Our Birmingham Medical Malpractice Attorneys
If you are suffering from a serious injury or illness due to medical malpractice, you need a serious lawyer on your side. When you meet with our team at the Serious Injury Law Group, we will answer all your questions about what makes a medical malpractice case. We give you an honest assessment and discuss your options for moving forward.
Call us today or contact us online to set up a free consultation with our dedicated Birmingham Alabama medical malpractice attorneys. We are available to meet with you anywhere in Alabama at a time that is convenient for you.